Customer Service Trainers in Kenya
Course Overview
What constitutes quality customer care? How does anything become amazing from being good? What are the common mistakes people make when attempting to provide customer service? Does disposition matter? How should one approach challenging clients? What methods can be employed to lessen the stress of providing customer service? Throughout this training session, which is jam-packed with knowledge, learn the answers to these and other crucial customer service questions. Participants will get knowledge on how to provide great customer service, portray a customer-friendly image, deal with picky clients, and more.
For organizations who prefer distant learning in a virtual classroom, we provide an analogous online Instructor-led customer service training course.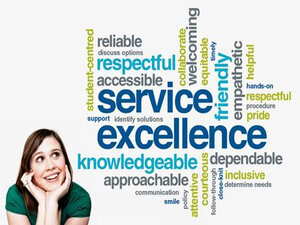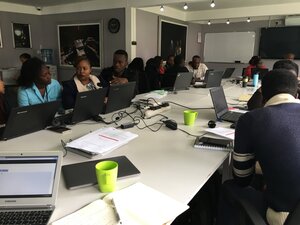 Course  Objectives
Participants should be able to after this training to:
Summarize superb client service.
Describe the advantages of excellent customer service.
Identify obstacles to providing exceptional customer service.
Adjust to certain customer behavior patterns.
Exhibit how to gauge client satisfaction and, if necessary, take corrective action. • Apply strategies for handling irate or upset clients.
Create a personal action plan to enhance your ability to provide for customers.
The course's main takeaways are highlighted in the outline that follows. We will adapt the content of your training program as necessary to achieve your company goals. Prior to the session, we will deliver a copy of the participant materials to you upon request
Organizational advantages
After successfully completing the Customer Service Excellence Course, participants contribute to their organization in the following ways:
The company will be able to keep clients for a long time, which will lower the cost of customer acquisition.
Customers that receive exceptional service are more likely to refer the company to others, which promotes business growth.
Businesses can get a competitive advantage in their sector by providing excellent customer service.
Staff who have received the most recent training and resources are more empowered and motivated. They are able to create stronger bonds with their clients, which is advantageous to both the client and the staff.
Increased sales will help the company become more profitable.
Create a favorable brand and reputation in the marketplace as a company that values its customers.
Personal advantages
Participants will gain the following benefits personally after completing the Customer Service Excellence training course:
Sales agents who have greater knowledge and skills typically handle challenging situations in a much more professional manner. This gives them more power and inspires them to work harder.
boosting the spirits of the sales staff because they will be more productive because they will be better prepared
improved listening and communication abilities
acquiring a growing range of customer service abilities that will help them advance their careers
Participants will be better equipped to meet their goals on schedule by developing an emotional connection and empathy with their consumers.
Customer Service Training Highlights
Course Outline
Prepare to Serve: The Beginning of Excellence
Having extensive knowledge is essential for providing excellent customer service. The first lesson examines what makes service exceptional and what causes customers to patronize a company's rivals.
Understand the nine expectations to "Stand and Deliver"
Delivering a good or service is not enough to ensure recurring business. In another segment of the program, nine client expectations for service providers are examined, and how these expectations might be fulfilled is explained.
Understanding various communication styles in the "Communication Jungle"
Customers exhibit a range of behavioral patterns. Customer service and communication are both improved by learning how to adapt to each. Participants will learn to recognize their own behavioral patterns using The Communication Jungle, Business Training Works' renowned diagnostic tool. Changing Your Words to Improve Your Relationships
Some people take years to grasp the meaning of the proverb "It's not what you say, but how you say it." Participants in this component will learn how to engage with customers effectively using language. Emphasis is placed on developing conflict-reducing ways of saying "no" and avoiding expressions like "that's not my job" and "I don't know."
Dealing with Difficult Customers: The Good, the Bad, and the Ugly
Not all clients are simple to work with. Participants will learn in this session how to deal with irate customers, whiny customers, consumers who try to take advantage of businesses, and other situations using real-world case studies.
Voicemail, email, memos, and other working tools
Some workplace communication tools that are meant to enhance customer service and corporate communication can instead have the opposite effect when used improperly. Anyone who has ever sent an email that was improperly understood can attest to this. This section examines customer-service communication tools and how to use them for best efficacy, from writing style and grammar to telephone etiquette.
The Clinic: Improvements We Can Make
The participants are asked to list the things they individually and as a group could do right away, within the next few weeks, and within the next few months to improve customer service in this action-oriented phase that examines an organization's current customer-service procedures.
Stress in Customer Service: 15-Minute Mini Spa
Stress can be unnecessarily increased when addressing the demands, desires, and frustrations of consumers. Stress-management techniques are covered at the end of the course to make sure the service providers are rested, awake, and delivering the best possible service Participants will leave the workshop knowing what makes for a positive customer service experience, how to provide exceptional customer service, how to handle challenging clients, and how to look after oneself while looking after others
Who Should Attend
Senior marketing directors or managers
Relationship managers and
Customer relationship managers
Professionals in customer service, supervisors,
Team leaders, and managers
Sales experts, salespeople, and sales analysts
Entrepreneurs and founders of startups
Trainers Available for:
In-House Trainings
Online Training
2 Hours Crush Program
Half  Day Program
One Day Program
Two Days Full Program
Training Techniques
Power point Presentations
Engaging conversations
Case studies
Exercises in solving problems
Focus Group Conversations
Games in Management
Skits and modeling the part