Front Desk Professional Image Building

Course Overview
A customer or client arrives while multiple phone lines are ringing, phone lights are blinking, and coworkers are asking questions. How can a front-desk employee manage a large number of individuals at once while maintaining professionalism and poise? This quick-paced training was created with this and other crucial questions for people who serve as the front desk's first-impression representative in mind. Participants will learn the essentials of clear verbal and visual communication as well as how to successfully please even the most difficult and demanding guests without endangering their health or safety.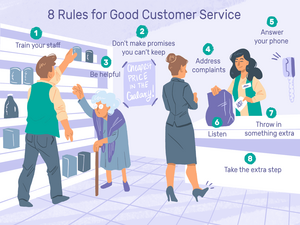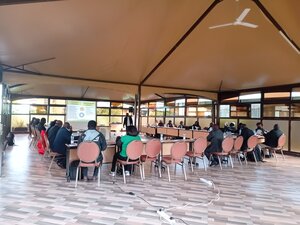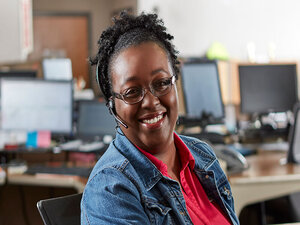 Course  Objectives
Participants should be able to after the program to:
List the elements of a polished appearance at the front desk.
professional Recognize that their office is a reflection of who they are as people and should present an image.
Communicate over the phone, precisely, and politely.
Improve conversational interaction with people they encounter in person.
Minimize disruptions brought on by guests and coworkers in a tactful yet resolute manner.
Read others' body language to identify the best approach to interact with them.
Implement tactics for successfully interacting with rude, obnoxious, or unsatisfied guests.
Outline the precautions they should take in emergencies that could jeopardize the security of everyone at work. Create a personal action plan to enhance their reputation and abilities at the receptionist
The course's main takeaways are highlighted in the outline that follows. We will adapt the content of your training program as necessary to achieve your company goals. Before the session, we will deliver a copy of the participant materials to you upon request (s).
Organizational advantages
After successfully completing the Customer Service Excellence Course, participants contribute to their organization in the following ways:
The company will be able to keep clients for a long time, which will lower the cost of customer acquisition.
Customers that receive exceptional service are more likely to refer the company to others, which promotes business growth.
Businesses can get a competitive advantage in their sector by providing excellent customer service.
Staff who have received the most recent training and resources are more empowered and motivated. They are able to create stronger bonds with their clients, which is advantageous to both the client and the staff.
Increased sales will help the company become more profitable.
Create a favorable brand and reputation in the marketplace as a company that values its customers.
Personal advantages
Participants will gain the following benefits personally after completing the Customer Service Excellence training course:
Sales agents who have greater knowledge and skills typically handle challenging situations in a much more professional manner. This gives them more power and inspires them to work harder.
boosting the spirits of the sales staff because they will be more productive because they will be better prepared
improved listening and communication abilities
acquiring a growing range of customer service abilities that will help them advance their careers
Participants will be better equipped to meet their goals on schedule by developing an emotional connection and empathy with their consumers.
Customer Service Training Highlights
Course Outline
Putting Your Best Foot Forward: Professional Image Attributes
Participants will talk about what makes a first-rate impression during this opening conversation. using a variety of illustrations. Participants will learn about the overt and covert cues front-desk staff members use to communicate with people before they ever speak. They will have a better understanding of the actions they can do right away to present themselves and their company professionally by observing the outward manifestations of individuals with polished appearances.
Backward: What Will Ruin the Image?
Participants will understand the habits and actions in this section of the program that can harm not only their reputation but also the reputation of their company.
They will examine the look, body language, mannerisms, and self-presentation factors that can strengthen or weaken their credibility. They will also realize that the actual area they occupy at work is a crucial aspect of their image and should not be overlooked. Additionally, we'll go over methods and resources for managing paper, keeping a professional environment, and cleaning and organizing your desk.
Whose Line Is It Anyway? : How to Answer and Place Calls Expertly
The importance of conveying professionalism over the phone is equal to that of doing so in person. Participants will get knowledge on how to present a favorable impression over the phone by using proper, cordial greetings. They will learn polite techniques to place callers on hold and how to avoid placing them on hold indefinitely. The facilitator will also discuss techniques for properly and swiftly taking messages, transferring calls with style, and politely concluding talks with chatty callers.
Beyond Words: The Speaks of the Body
Even when people are silent, posture, arm positioning, hand motions, and facial features are quite expressive. The ability to "read" other people's body signals and be conscious of one's own can help one present a better personal image and provide better customer service. Participants will finish off their study of communication strategies in this section of the session by learning how to read body language in both themselves and others.
techniques by becoming adept at reading the body language of people and themselves.
Security Issues: Maintaining Your Safety at the Front
In this segment of the show, we will discuss how important it is to be both polite and cautious. The front desk is just that, the front. In this section, we'll discuss safety, surprises, and what to do if the unexpected happens.
Using tact and diplomacy to deal with difficult people under pressure
The capacity of front-desk staff to deal with difficult customers efficiently without losing composure or respect is a sign of true professionalism. Maintaining professionalism when dealing with people who don't return the favor calls for a rare talent and impressive self-control. We will look at diplomatic, courteous, and safe communication techniques at this phase of the program.
Who Should Attend
Senior marketing directors or managers
Relationship managers and
Customer relationship managers
Professionals in customer service, supervisors,
Team leaders, and managers
Sales experts, salespeople, and sales analysts
Entrepreneurs and founders of startups
Trainers Available for:
In-House Trainings
Online Training
2 Hours Crush Program
Half  Day Program
One Day Program
Two Days Full Program
Training Techniques
Power point Presentations
Engaging conversations
Case studies
Exercises in solving problems
Focus Group Conversations
Games in Management
Skits and modeling the part