Course Overview
Your team will learn the professional telephone abilities they need from the Professional Telephone Skills Training Course. This course will make sure that every conversation strengthens and reinforces a favorable perception of your company.
Do you ever wonder why dealing with consumers over the phone can frequently lead to issues that you would never experience in person?
Even though phone calls might lead to sales opportunities, a single unpleasant phone call can cause a customer, even a loyal one, to turn elsewhere.
Your customers' only connection to your business is via the phone. However, even though it offers quick and reasonably priced communication, the telephone is an impersonal medium, thus switchboard operators and other telephone personnel must discourage bad behavior on both ends.
It's critical to comprehend the methods that might be employed as well as the benefits and drawbacks of telephone communication. We'll collaborate with you to develop a system that makes it possible for delegates to be smarter, more receptive, and significantly more productive when making phone calls.
The outcome? When customers interact with you over the phone, they will be pleased, and this will lead to better and more enduring connections.
With our one-day Professional Telephone Skills Course, you can learn how to speak more professionally on the phone, deal with demanding customers, develop your listening skills, and much more. This course will assist your personnel in having more effective phone interactions for business purposes and in providing superior service and support over the phone.
Employees' telephone manners reveal whether they are eager and competent to help consumers.
Customers' perceptions of the abilities and attitudes displayed over the phone can leave a lasting impression, making it a crucial and memorable customer experience.
The telephone is one of the key communication routes used by virtual teams, which is increasingly the norm rather than the exception. To deliver the greatest results for the customer, virtual employees must have a solid grasp of business telephone etiquette.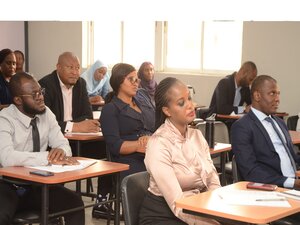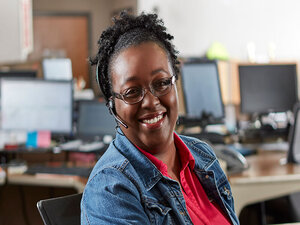 Course  Objectives
Learn excellent phone-based client service techniques.
Make a good impression on the phone.
Develop a confident, efficient, and soothing telephone voice.
Utilize tried-and-true communication methods to win clients' trust.
Learn to properly question people on the phone.
Learn how to handle upset clients professionally by mastering these tactics.
Find out how to manage a crowded reception.
Improve your word choice for more productive and understandable communication
Establish the appropriate language for clear, constructive communication.
Leave persuasive voicemails.
Management & Supervisory Training Highlights
Course Outline
Lesson 1: Giving Effective Client Service
Welcome
What Makes An Effective Client Communicator? The Ten Commandments of Good Business Practice?
Lesson 2: Your Personality/Your Telephone Voice
Seven Deadly Sins of Service
Communication Evolution Tool: LDP Review
The Model for Communication
Five Elements of a Good Telephone Voice: ABCDE
Greetings – Should The 6 Ps of Nonverbal Communication: HAIL Voice Modulation
Reflection
Lesson 3: Gaining the Trust of Your Clients
You Only Get One Chance to Make a First Impression
Create a Good First Impression with These 4 Phone Parts Greeting
Using uplifting language will put your clients at ease.
Convey urgency
Saying Too Much and Missing the Point Ending a Call Politely and Professionally
Lesson 4: Overcoming Obstacles on the Phone
Working with the 5 Barriers
Words You Should Never Use
Lesson 5: Effective Questioning
WIIFM
Effective Questioning Methods
The Next 5 Open and Closed Questions to Ask Yourself
Asking clarifications
Asking for satisfaction or clarification will help you maintain control of the call.
Decide when you'll call them again.
Lesson 6:  Angry Clients
How to Handle Furious Clients
The Problem of Furious Clients
Refrain from letting negative emotions affect you.
Low Intelligence – High Emotion
Use the HEAT to Calm an Upset Customer
Lesson 7: Get Ready by Making Phone Calls
Check Your Calls With Ringtone Transfers
Putting a Client on Hold for Message-Taking
Lesson 8: Serving Customers at the Reception: Reception Tips How to's
Reflecting on the Don'ts when Serving Customers at the Reception
Lesson 9: Professional Voicemail Messages
What Should I Say in a Voicemail?
Messages that are Specialized for Each Caller
Final Greeting
Internal Greeting Rehearse, Rehearse, Rehearse
Reflection
Lesson 10: Reflections
Make a plan of action
Accountability = Performance
Who Should Attend
Senior marketing directors or managers
Relationship managers and
Customer relationship managers
Professionals in customer service, supervisors,
Team leaders, and managers
Sales experts, salespeople, and sales analysts
Entrepreneurs and founders of startups
Trainers Available for:
In-House Trainings
Online Training
2 Hours Crush Program
Half  Day Program
One Day Program
Two Days Full Program
Training Techniques
Power point Presentations
Engaging conversations
Case studies
Exercises in solving problems
Focus Group Conversations
Games in Management
Skits and modeling the part