Course Overview
Someone buys from people they enjoy working with, all things being equal. It's that easy. Each of us has been treated like a number. Not surprisingly, few of us appreciate this callous attitude. Participants in this sales training course learn how to collaborate with clients, listen carefully, and establish profitable long-term business connections.
Course outcomes
Give participants the resources they need to identify client needs and position goods and services to satisfy expressed preferences.
Aid in developing a "partnering mindset" among participants.
Offer strategies for making the most of meetings, calls, emails, and other tools to establish strong business relationships with clients and prospects.
Provide suggestions for how to keep the door open in the absence of a sale.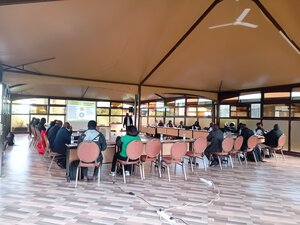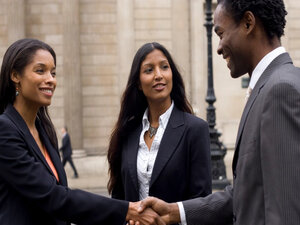 Course  Objectives
Explain the "salesperson as partner" tenet and the advantages of establishing and maintaining client/customer relationships.
Explain the characteristics and advantages of their company, products, and services.
Recognize "language of needs.
Describe the four steps in the sales process. Prospecting can be used to find qualified leads.
Introduce oneself, others, and their company in a relaxed manner.
Outline the fundamentals of networking, corporate etiquette, and professional attire.
Schedule a client meeting.
Outline the salesperson's responsibilities during the initial stages of the transaction.
Use probes to discover the needs of your clients or customers.
Addressing client/customer concerns
Close deals with clients who are prepared to collaborate with your business.
When there are no sales, leave the door open.
Maintain contact with clients and customers to strengthen bonds.
The course's main takeaways are highlighted in the outline that follows. We will adapt the content of your training program as necessary to achieve your company goals. Before the session, we will send you a copy of the participant materials if you ask for it (s).
Organizational advantages
Creating a marketing intelligence system using the relevant data
Ensuring effective administration of integrated marketing communications
Improved after-sales and sales services
Increased market share increased likelihood of sticking out from the competition improved market image development
Greater likelihood of repeat business
Collecting more effective sales promotion methods
 Personal advantages
Being more capable in the role of selling
Having the ability to explain and demonstrate products
Timely reaching set sales goals
Recognizing the value of preparation before making a transaction
Collaborating with employees from many areas around the firm
Analysis of statistical data to enhance understanding of consumer base and historical sales
Sales Training Highlights
Course Outline
Changing your mindset to one of a partner rather than a pest
We are all bothered by telemarketers, clichéd used-car salesmen, and other pushy salespeople who have led many of us to consider sales and salespeople as annoying annoyances and the last thing we want to be: Sales? Not me! Never! The introduction to this sales training course questions the conventional notions of selling and salespeople. By the end of the course, participants should have developed a perspective of themselves as business partners and be able to offer information, goods, and services to clients/customers that best suit their needs.
You Need to Know Where You Are to Get Where You're Going: 
What Makes Your Goods and Services Unique Now that you're in a selling mindset, are you prepared to close deals? No! Understanding the qualities, advantages, and drawbacks of the product or service is a prerequisite before you can start marketing it (actual or perceived). Participants in this preparatory unit will spend time describing their specific product or service, its advantages, and which market categories are desirable targets.
How Can I Help You?: Identifying Your Pain Points
The third section describes solution selling, explains what it isn't, and explains why it's crucial for stable, long-term business success. Objectives and emphasis Participants ought to leave with a clear awareness of the distinction between catering to a client's wants and merely pushing a menu of goods and services.
How Does This Work Exactly? : An Examination of the Sales Process
The opening, probing, supporting, and committing phases of the sales process are introduced in this section of the relationship sales training. Through case studies and roleplays, the lessons from the prior lesson are reinforced throughout this course.
Where to Begin and the First Steps
It can be unsettling, time-consuming, and frequently ineffective to make cold calls. Thankfully, networking is a superior approach. In a different segment of the program, strategies are presented for fostering relationships with current clients and customers as well as for locating the precise clients and customers they are attempting to draw in by joining professional associations and community organizations and volunteering for the right opportunities. Participants must be able to map their professional network, identify areas for development, and create a list of businesses and individuals they should get to know better.
Networking and Professional Basics: Dress the Part
You've located the consumer or client with whom you want to establish a relationship. How would you like to be introduced? How would you introduce someone else? Oh my! You left out a name. What's next? Participants will discover the solutions to these issues as well as effective first impression techniques in this situation.
What to Say and How to Say It When Making the Call
A follow-up element examines the sales call's initial stage. This practical subject offers a framework for initiating interactions with consumers and clients, from the mechanics of calling planning through the first words said.
What Comes Next? : After Introductions
Participants will have the chance to participate in the probing and investigating stages of the sales process in this section of the course. They will practice their questioning techniques and capacity to think fast and logically to meet the needs of the customer and client via case studies and roleplays.
However: Overcoming Rebuttals
Customers frequently raise questions or objections during the sales process. To get ready for the arguments they will really face at work, participants will examine approaches for handling objections and craft situation-specific responses in this lesson.
Finishing Up: Drawing to a Close
Now that you've done a great job of establishing a rapport, posing and answering inquiries, and addressing objections, it's time for your client or customer to commit. The strategy for successfully navigating the commitment stage of the sales process is provided in a subsequent course. It includes instructions on how to ask for commitment, how to handle "no" responses by leaving the door open, and how to assist clients in avoiding buyer's remorse.
Remember Me? : Following Up with Customers
Great! The client or customer is yours. What must you do to ensure that this person continues to cooperate with you and your company and is happy? How do
You're aware of a satisfied client, right? Unhappy? What steps do you take to resolve issues that you or the client caused? Participants will learn how to maintain relationships for long-term business success in this conversation.
Developing Stronger Customer Relationships to Keep Them Coming Back
When you have a customer for months or years, how can you upsell them? What methods are accessible to help them advance their goods and services? When and if you are unable to assist the customer directly in the future, how will you introduce the other members of your team? In this last class, participants are introduced to a follow-up framework that demonstrates how to apply the skills they have acquired throughout the program to improve the client/customer experience.
Participants will be able to identify the steps in the relationship-selling process, comprehend the significance of forming a partnership with their clients/customers, and know how to implement the knowledge taught in the program by the end of this sales training course.
Who Should Attend
Senior marketing directors or managers
Relationship managers and
Customer relationship managers
Professionals in customer service, supervisors,
Team leaders, and managers
Sales experts, salespeople, and sales analysts
Entrepreneurs and founders of startups
Trainers Available for:
In-House Trainings
Online Training
2 Hours Crush Program
Half  Day Program
One Day Program
Two Days Full Program
Training Techniques
Power point Presentations
Engaging conversations
Case studies
Exercises in solving problems
Focus Group Conversations
Games in Management
Skits and modeling the part