Course Overview
Boost your professional success. The secret to success is good time management. Instead of going with the crowd, it enables you to take charge of your life. As you do more each day, make more wise choices, and feel more in control, people start to notice. Leaders in your company will look to you for assistance when they need to complete tasks. With more exposure, you are better positioned to take advantage of career chances. You can reach such objectives with the help of our time management training course.
Time is valuable to us, whether or not we put a monetary value on it. Consider this: How much of your usual workweek do you spend feeling anxious because you don't have enough time to finish a task or achieve a goal?
Time management is the key to handling this circumstance. The first stage in creating a successful time management strategy is to recognize, define, and understand your long-term goals. Setting short-term goals that will successfully help you reach your long-term goals in life is now possible with the bigger aim in the background.
Time management is a trait shared by all reputable leaders. The most successful people in all spheres of life—business, sport, and public service—are those who regularly employ these tactics. You can control your life if you can effectively manage your time. Additionally, it will enable you to respond to situations rather than only reacting to them.
Utilizing the techniques covered in the time management training course will help you maximize your efforts so that you may focus all of your time and energy on the tasks with the highest potential for success. This guarantees that you make the most of the short time you have available to reap the greatest possible profit. Contrary to popular assumption, efficient time management does not revolve around completing tasks faster.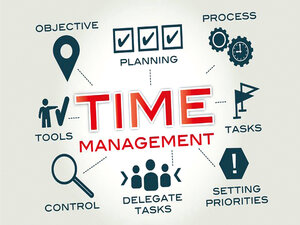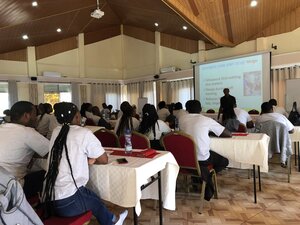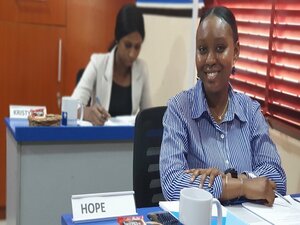 Course  Objectives
Set SMART objectives.
Set priorities wisely.
Strategic planning
Acquire long-lasting abilities to combat procrastination
Manage tense situations easily
Learn to set up your workspace for productivity and efficiency.
Learn when to delegate and how to do it for the most productivity.
Create everyday routines to increase productivity
Learn insightful techniques to effectively run meetings and keep them on schedule
Find alternatives to face-to-face meetings
Management & Supervisory Training Highlights
Course Outline
Lesson 1: Starting the Workshop Goals
Lesson 2 of the Pre-Assignment Review
Types of Goals
Three Ps for Smart Goals
How to Set Priorities and Maintain Focus
Lesson 3: Set daily priorities
Parametric Law
Planned tasks versus immediate tasks
Lesson 4:  "Staying on Track": "Plan to Succeed"
Creating Planning Documents and Putting Planning Documents into Practice
Prioritizing Tasks based on Relevance
Targeted Tasking for Breaking Down Large Tasks
Lesson 5: Eliminating Avoidance
What Is Procrastination?
How to Stop Avoidance: Nine Steps
Frogs as a meal?
Lesson 6: Managing Unexpected Events
Planning and preparing for a crisis and getting into action mode
How to Prevent the Upcoming Crisis
Lesson 7: Well-maintained work areas
Eliminate disorder
Control the Work Requirements
Take control over electronic communication
Lesson 8: Delegation Principles
Calendaring for Success
Assignment of Delegation: An Explanation
Accepting Delegation: How to Delegate
Lesson 9: Rituals Are Important
How Should Basic Human Functions Be Managed Ritually?
Examples to Consider Buying More Time
Lesson 10: Effective Meeting Management
Do You Need a Meeting?
Put the PAT Technique to use
Making schedules
Stop Discussion Deviation Follow-Up After Meeting
Lesson 11: Options for Meetings
Virtual Dialogues
Phone conferences
Utilizing cloud-based applications for electronic communications
Lesson 12: Wrapping Up Wise Words
Who Should Attend
Senior marketing directors or managers
Relationship managers and
Customer relationship managers
Professionals in customer service, supervisors,
Team leaders, and managers
Sales experts, salespeople, and sales analysts
Entrepreneurs and founders of startups
Trainers Available for:
In-House Trainings
Online Training
2 Hours Crush Program
Half  Day Program
One Day Program
Two Days Full Program
Training Techniques
Power point Presentations
Engaging conversations
Case studies
Exercises in solving problems
Focus Group Conversations
Games in Management
Skits and modeling the part